Body camera video of homeless veteran's arrest released
---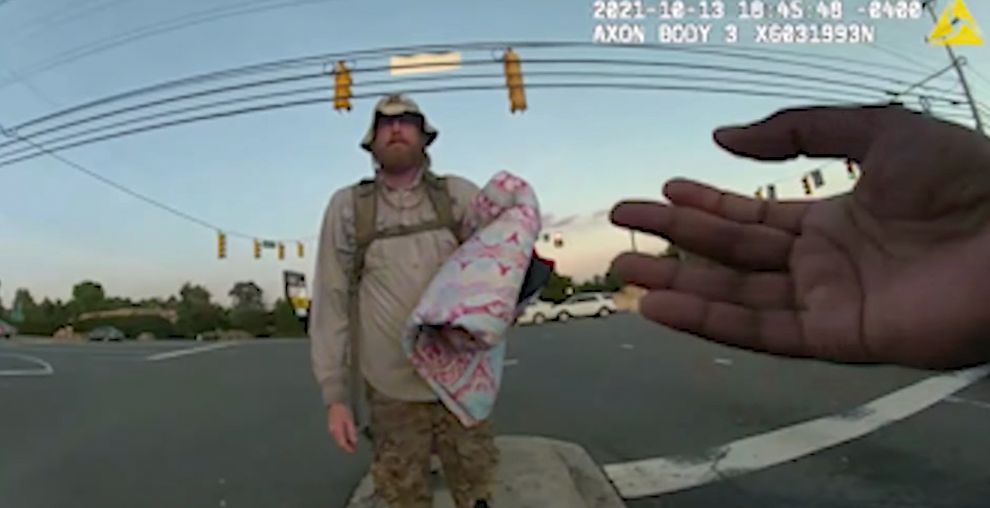 GASTONIA, NC — A 10-month battle for the release of police video capturing the arrest of a homeless Gaston County veteran is finally over.
What do you want to know

Joshua Rohrer is a homeless veteran who was arrested by Gastonia police for begging and resisting arrest on October 13.

Rohrer had demanded the release of the officers' body cameras during his arrest

A judge signed off on Wednesday for the release of the video, which was released to the department and Rohrer on Thursday.

The district attorney's office dropped charges against Rohrer after he pleaded guilty to an unrelated charge of driving without a license and agreed to enroll in the veterans treatment program in Catawba County.
Joshua Rohrer was arrested and charged with begging and resisting arrest in an incident last October.
His service dog, Sunshine, was shocked during this interaction. Sunshine, who was picked up by a friend, later died after being hit by a car while Rohrer was still in jail.
Rohrer and his attorney had asked the court to release the video, so the public could judge for themselves how he and his dog were treated by police.
This request was accepted on Thursday.
Rohrer argues that the officers could have handled the situation differently by using de-escalation tactics instead of a Taser.
He hopes the images will encourage increased training.
On October 13, two officers first responded to a begging call.
According to city code, it is illegal to solicit or accept property or money from persons driving on any street or city center.
Gastonia Police Officer Cierra Brooks was the first on the scene.
In the video, Rohrer tells Brooks he's not asking for money. She tells him that she will write him a citation for begging.
Officer Maurice Taylor responds as Brooks' replacement.
Taylor asks Rohrer for his identity, and the interaction escalates into his arrest.
During the arrest, Rohrer's service dog becomes anxious. Sunshine jumps on the hood of the car as Taylor asks Rohrer to call his dog, then Taylor tases the dog.
This was not the first interaction between Rohrer and the officers. Four days earlier, on October 9, Rohrer had been asked by the police to leave this same platform.
A Superior Court judge granted release of police footage of the two interactions.
Rohrer was emotional after the judge decided to release the video, and he says he wants people to see he was treated unfairly.
"Hopefully the officers will learn to defuse and approach situations differently because all of this could have been avoided if they had just listened to me," Rohrer said.
Earlier this month, Rohrer accepted a plea deal to drop the charges of begging and resisting arrest in exchange for pleading guilty to a charge unrelated to driving without a license.
He also agreed to attend a veterans treatment program in Catawba County.
As for the officers involved, Taylor resigned in February and Brooks is still serving.
In response to the release of the videos, the Gastonia Police Department argues that Rohrer was breaking the law.
"The city is pleased that the resolution of Mr. Rohrer's charges will include his attendance at the Catawba County Veterans Treatment Court, where he can receive services specifically tailored to his needs," the department said in a statement. "The City of Gastonia Police Department's internal review of this incident was conducted in accordance with established policy."