Captured on camera – the moment a Red Arrows jet collides with a bird in flight above Rhyl
---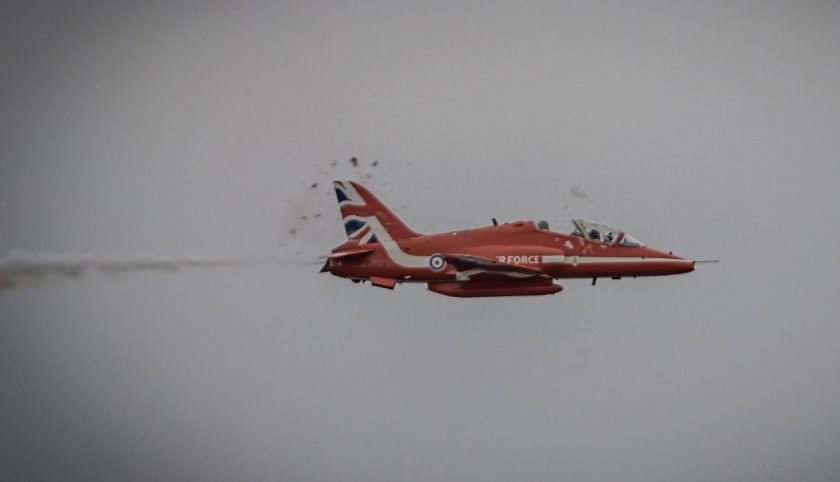 Listen to this article
This is when a Red Arrows jet slammed into a bird shattering the plane's cockpit canopy.
The world-renowned aerobatic team was forced to cut short its demonstration at Rhyl on Sunday "a few minutes early" after the in-flight incident.
Wrexham's Mike Williams was at the Rhyl Airshow on Sunday, he managed to capture the moments when the collision took place using a Nikon D500 camera with a 70-200 lens.
The image shows debris from the canopy and the bird circling the plane as pilot Steve Ogston took "immediate action, executed calmly and properly". said its commander David Montenegro.
David said the Red 6 pilot was "a little shaken up" by the incident but was uninjured.
He managed to get the red Hawk T1 jet back safely to Hawarden Airfield – next to Airbus Broughton – where they were based at the weekend for their two appearances at the Rhyl Airshow.
Hawarden's on-site fire department who were on hand when the plane landed, they helped Steve out of the damaged plane.
A team spokesperson said: "Thank you to everyone who participated in this weekend's Rhyl Airshow. We had to end today's RedArrows display a few minutes early after one of our jets suffered a bird strike, damaging the cockpit canopy.
"This type of incident is not uncommon in aviation and is extremely well trained. In this case, Red 6 and the entire team reacted perfectly together, with no additional risk to the pilot and the aircraft.
"Happy to report the jet landed safely and the pilot is unharmed. Thank you for all the well wishes and many messages of support, asking questions about the pilot.
The Hawk jet is expected to remain suspended in Hawarden where it will undergo an intensive inspection and repair before joining the team at their base at RAF Scampton in Lincolnshire.
---
Read more
Flint Coast Guard issues 'safety advice' to group of 100 people at risk of being cut off by tide
Warning over use of accelerators after man suffered 'significant' pizza burns in accident
Call for more public holidays to reward 'grafting nation'
Young people from North Wales help shape the Children's Charter
---
Did you spot something? You have a story? send a facebook message | A direct message to Twitter | Email: [email protected]