DJI Ronin 4D review: an unrivaled cinema camera system
---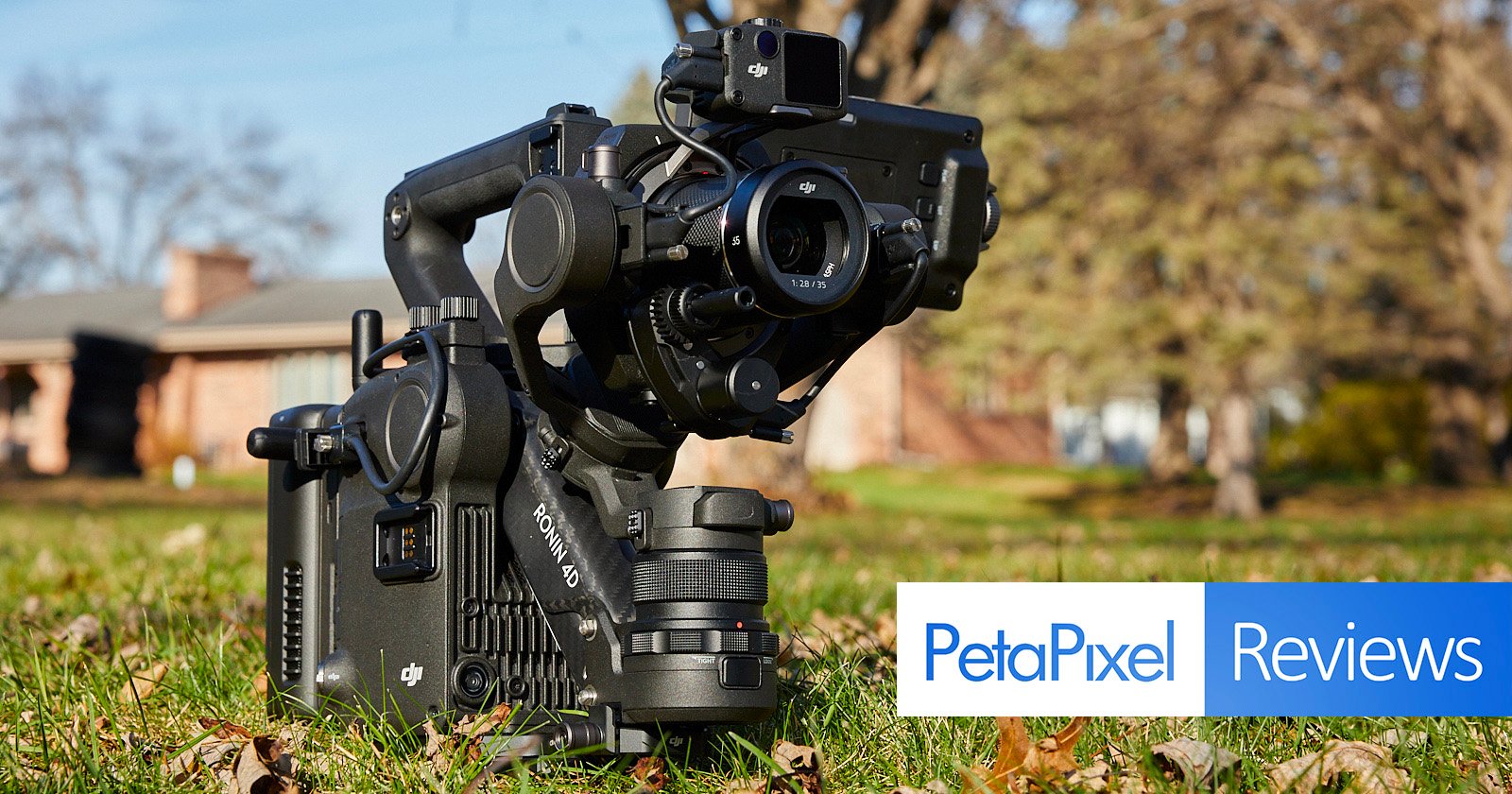 What does it take to make a camera stand out? Some companies focus on specs, others on looks, others on versatility. DJI went for all three with Ronin 4D.
Build quality and design
The Ronin 4D combines a camera and a gimbal in one package. In doing so, DJI is able to make the platform lighter, better balanced, and offer improved stabilization and control. It is constructed of carbon fiber and aluminum-magnesium alloy and overall with the DJI 35mm f / 2.8 lens mounted, I found it to be an appropriate amount of weight to balance stability with comfort.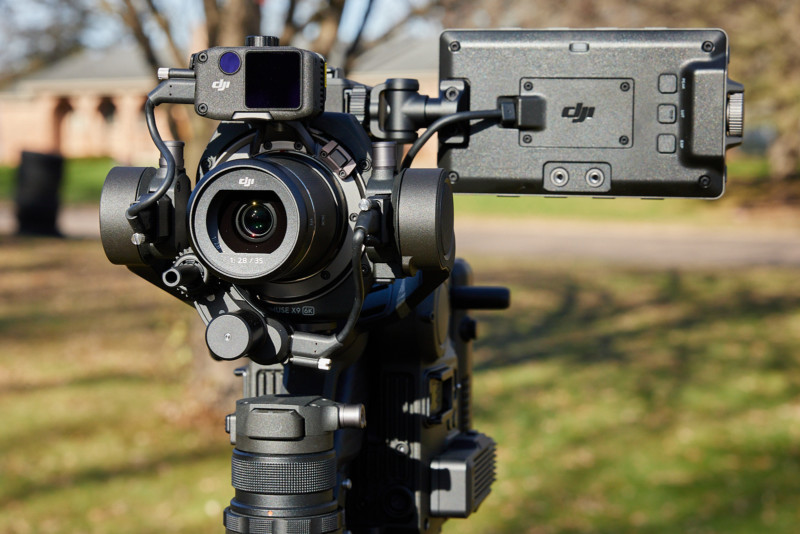 Buttons and controls are arranged on the left side of the camera as well as on the monitor, the implied reason being that the operator's right hand will hold the top handle. The Ronin also comes with left and right grips with controls on each. There's nothing cheap about those buttons and scrub wheels, and DJI has nailed the touch experience throughout the camera. There are useful little details found all over the place and it's shocking that this is the first time the company has embarked on something of this style.
To watch
The monitor is a 5.5 inch, 1920 x 1080 pixel touchscreen with 1000 nits of brightness. It's a perfect size for a gimbal where a large rotating screen is still useful for monitoring, but there has to be a balance between the weight it adds and the space it takes up. The image quality looked good in my experience and it had the clarity to be able to discern the sharpness of the subject when looking at it.
The responsiveness of the touchscreen was there, even with gloves. I did a few shots with the Ronin 4D when the temperature was in the 20 degrees Fahrenheit range and didn't see any ghosting issues or slow behavior.
Video quality
Capable of filming in 6K ProRes RAW and ProRes 422HQ at up to 60 frames per second and up to 120 frames per second in 4K, the Ronin 4D is no slouch in its video performance. At specific high frame rate thresholds, the camera will force an aspect ratio of 2.39: 1.
There are a few options available to deal with this, and given that this is a 6K capable camera, it's actually not that bad. First, just use the 2.39: 1 "kinematic" look if it suits the project. This is the easiest and most obvious option because no matter what is filmed, it will adapt to any finite resolution. The other option is to shoot in 6K for a 4K project, or in 6K and 4K for a 2K project. The 2.39: 1 aspect in 6K will accommodate a more standard 16: 9 aspect in 4K and still have some leeway for adjusting or cropping the frame.
The Zenmuse X9-6K is equipped with a full frame sensor, the company claims to have over 14 stops of dynamic range with two native ISOs of 800 and 5000. Pushing D-log color profile files when editing reveals its strengths, and I can confirm the natural gradations and the ability to record considerable information in highlights and shadows.
As a gimbal-infused camera setup meant to be hand-held more often, the sensor's read speed and its rolling shutter effects can come into play as the sensor moves. Although I see bent vertical straight lines, I have to be aggressive to make them appear and found the results to be roughly comparable to any other cinema style camera I have used without a shutter. global.
Stabilization
While there are many interesting components in the Ronin 4D, it's the "4D" in the name that DJI obviously sees as a highlight. Most gimbals compensate for pitch, roll, and yaw, but it's the Ronin 4D that can compensate for up and down (Z axis) movement as well. It doesn't have to be active all the time, and there's a dedicated "4D" button on the side of the camera for easy switching.
In my testing, the 4D compensation is remarkable. I'm not much of a gimbal operator myself and even I could do relatively smooth shots without really drawing my attention to stability. The video below was taken while I was just walking across different terrains and specifically not trying to focus on getting super clean and stable shots. Behind the camera, I move casually, most of the time with one hand on the handle. I wanted to see if anyone could take this camera and go.
In my eyes, besides knowing how hard I was jumping on the forest floor and rocks and so on, stabilization was the real deal. I think to really clean up those shots I would fine tune my pan settings in the camera menu, but otherwise the actual 4D Z axis movements were canceled.
With that in mind, I got a little crazier and started running with the camera. Now I'm probably the most goofy runner you'll find and the footage was always as smooth as it gets. At the end of the sequence below, I took the final step and just started shaking the camera like a real maniac. There were three stages of shaking of low, medium and high intensity. Yes, you can finally see some shaking in the clip, but on any other camera and gimbal system the image would be absolute blur with nothing discernible in the frame.
Autofocus
Autofocus is another area where DJI has taken a unique approach. The Ronin 4D is equipped with a LiDAR system in a module that sits near the lens and calculates the distance between a subject and the camera sensor.
In practice, the autofocus was random. The worst can be the implementation where it will jump very abnormally to reach a new direction. I couldn't find any menu settings available to relax it for slower transitions. For non-human subjects like my dog ​​or just walking around in a landscape, autofocus is unreliable and messy.
That said, autofocus really shines when it comes to shooting people. Whether I'm at the edge of the frame, far away, with my back turned, walking around it doesn't seem to matter and the Ronin 4D keeps the autofocus locked. Something I haven't been able to test is how it handles more than one person in the frame, and I wonder if it would be a problem to skip. I suspect so, or at least it's probably harder to get him to pick the right person to follow. You can drag a frame around the subject to track on the touchscreen, but from what I've seen, this only tells the gimbal what to track and doesn't affect the targeting of the camera. autofocus.
The LiDAR system also benefits from manual focus by reporting distance information on a graphical display. By matching what the camera is reporting, the focus distance of the lens is the focus distance that the LiDAR detects, I have a very handy assist function. At the end of the sequence below, I am using this depth measurement option to do my best to keep the manual focus while looking at a high brightness DJI remote monitor.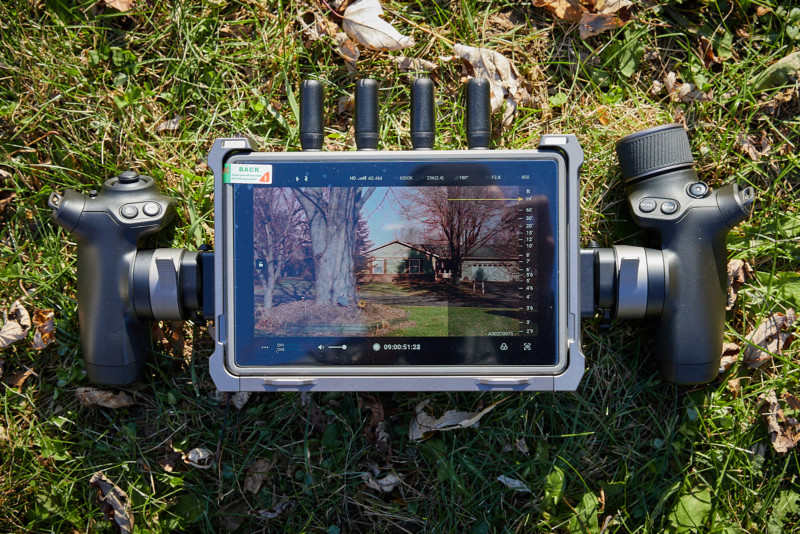 A superb demonstration of technological know-how
I know this camera won't be for everyone and isn't designed to be, but I think it means something when I say I wish everyone could try it out at some point , because they will appreciate him for what he manages to accomplish.
This brings me to think about perspective. Say you're looking to get your first camera, and the Ronin 4D ticks a lot of boxes. I think for someone like this who gets used to this camera, switching to another camera system in the future is going to be boring. In this situation, they will likely lose more than they would gain by making the switch. On the flip side, the rest of us are probably watching the Ronin 4D with our heads bowed because it doesn't follow the rules of a square cinema camera that we relentlessly rely on.
Are there any alternatives?
The DJI Ronin 4D takes a whole new approach to deliver a comprehensive set of products designed from the ground up to complement and work with each other. The alternative to this would be to go the traditional route by purchasing everything independently – the camera, gimbal, five-inch monitor, etc. – and to have a little more independence on the configuration.
Honestly though, there's no package that works together as well as what DJI has here. It is, for now, really unique. Even though it's not cheap to $ 11,499, I have to think that anyone who tries to create a similar system to the card is going to end up spending at least that much and none of these parts will perform as well as what DJI has in 4D.
Should you buy it?
Yes. The DJI Ronin 4D is too unique and too well designed to look beyond. It's not perfect across the board all the time, but it's a package that doesn't have a competitor at the moment. Even if there were, I find it hard to imagine that any other company would go to as much effort as DJI for this one or do nearly as well.