Embry-Riddle to Develop Camera System for Upcoming Polaris Dawn Space Mission | Embry-Riddle Aeronautical University
---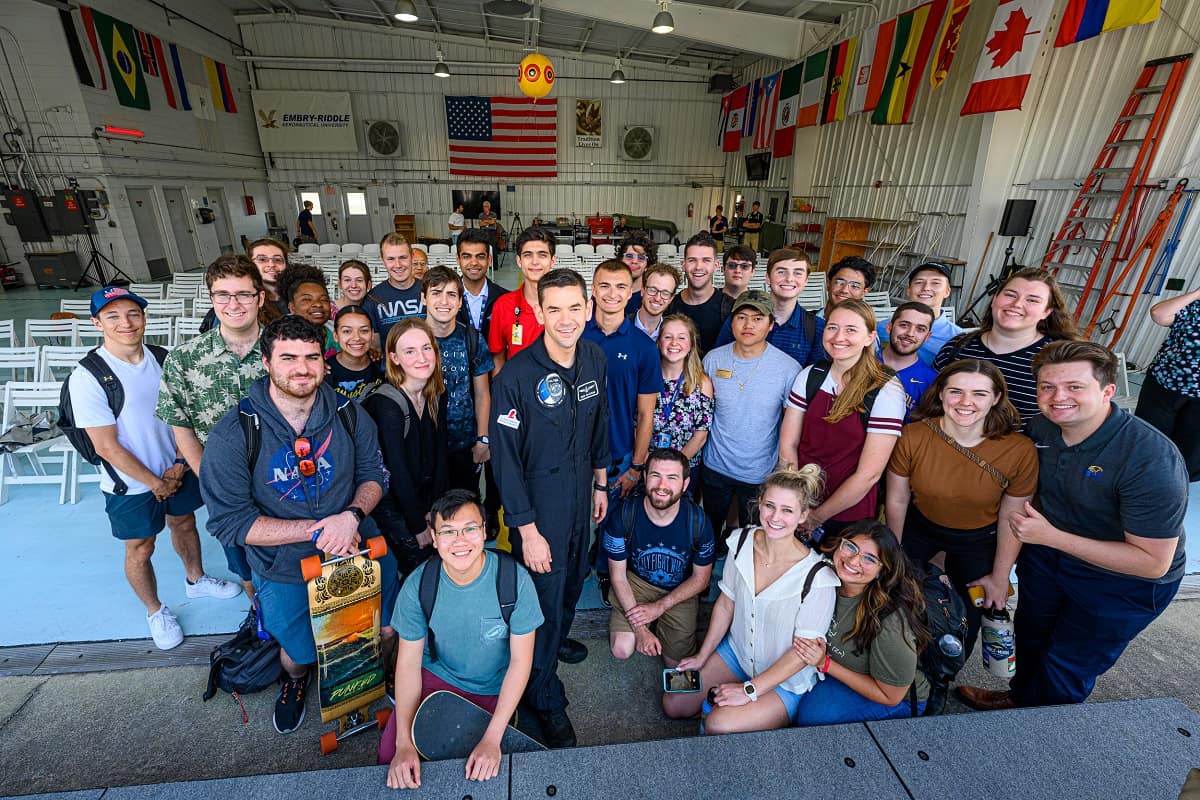 Entrepreneur, Polaris Dawn Commander and Embry-Riddle Aeronautical University alumnus Jared Isaacman ('11), who led the first-ever all-civilian space mission last year, visited the Daytona Beach campus of Embry-Riddle last week to meet the next generation of aviators and talk about how commercial space missions can help create a better world.
During his visit, Isaacman also toured the Embry-Riddle Space Technology Lab, where a new multi-camera system is being developed that will fly aboard a SpaceX Dragon capsule, launched on a Falcon 9 rocket. , with the goal of capturing the first-ever commercial spacewalk video. Isaacman interacted with the students while in the lab, offering feedback on the development of a preliminary 3D-printed camera system prototype that the Eagle team had already developed.
"It was both energizing and inspiring to witness this type of collaboration in action," said Embry-Riddle President P. Barry Butler, Ph.D., who toured the lab with Isaacman. . "Our students don't just read spaceflight books. They build with their own hands equipment that will travel in space. They are an integral part of this mission, interacting directly with its commander who also happens to be another Eagle alumnus. History is happening here, right now – and our students are at the center of it.
Polaris Dawn is the first mission in the Polaris program, which includes up to three human spaceflight missions that will demonstrate new technologies, conduct extensive research, and ultimately culminate in the first flight of SpaceX's Starship with humans on board. As for Embry-Riddle's involvement in the mission, it doesn't stop with building the camera, according to Dr. Troy Henderson, Director of the Space Technologies Lab and Associate Professor of Aerospace Engineering. Additionally, the team will strive to use the camera imagery to later create virtual reality simulations. They also plan to test the thermal management hardware.
Jared Isaacman (center) was welcomed to campus by Embry-Riddle President P. Barry Butler (right), College of Aviation Dean Alan Stolzer, World Campus Chancellor John R. Watret and World College of Aeronautics Dean Ken Witcher (left). (Photo: Embry-Riddle/Bernard Wilchusky)
"With the successful delivery of the EagleCam hardware, the Polaris team asked us to provide a camera payload for the Polaris Dawn mission – and sure enough, the students jumped at the chance," Henderson said. "Working on security and physical payload requirements in conjunction with Polaris and SpaceX is invaluable to our students, in terms of developing both their technical skills and networking capabilities. And who wouldn't want to be part of the first-ever commercial spacewalk? »
In addition to previously leading the Inspiration4 mission, Isaacman is also CEO of Shift4 and founder of Draken International. Similar to Inspiration4, which raised more than $240 million for St. Jude Children's Research Hospital, the Polaris Dawn mission will also work to advance scientific research to improve human health, while continuing to raise funds and to promote St. Jude.
"In collaboration with the Space Technology Laboratory, the Polaris program is working to film and share the first commercial spacewalk during the Polaris Dawn mission. The resulting images will provide invaluable data for future spacesuit design. and potential future CubeSat deployment mechanisms," Isaacman said. "Furthermore, the images will engage audiences and help inspire today's youth to become tomorrow's engineers, who will continue to make groundbreaking advances in the spaceflight industry with the ultimate goal of opening up access to space for all. Seeing the hard work, passion, and ingenuity of Embry-Riddle students brings me back to my reinvigorating early days with aviation and aerospace, and reminds me why this work matters.
Liftoff from Polaris Dawn is currently scheduled for no earlier than the fourth quarter of 2022. Previously, the Embry-Riddle space technology team developed the EagleCam camera system, which will travel to the moon with the Intuitive Machines Nova lunar lander. -C, also slated for a late 2022 launch.
Commander Isaacman talks about spaceflight and aerospace careers
During his first visit to Embry-Riddle's Daytona Beach campus last week, Isaacman spoke about his career in spaceflight and aviation, serving as a guest speaker for Aviation Week 2022.
Issacman was interviewed by students Alijah McDonald and Niko Blanks, moderated by College of Aeronautics Global Campus Dean Ken Witcher. McDonald is an aerospace engineering student and Boeing Fellow, who is expected to intern at The Boeing Company this summer. Blanks, who is a childhood cancer survivor, studies space operations and will work for Blue Origin this summer.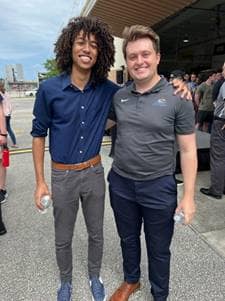 Embry-Riddle students Alijah McDonald and Niko Blanks served as interviewers for Jared Isaacman in the Dean's Hangar Talk, during Aviation Week 2022. (Photo: Embry-Riddle/Ginger Pinholster)
"It's such an exciting time for human spaceflight," said Issacman, adding that the momentum cannot be taken for granted, however, and that it remains important to reinforce the value of space travel as a way to help to meet the challenges here on Earth.
As for the experience of spaceflight itself, he cited seeing the moon rise aboard a spacecraft orbiting Earth as a particularly memorable moment that made him realize how further exploration was needed.
"Seeing the moon was more of an energizing feeling that we can't let that momentum slow down," he said. "We just have to keep going."
Some of Isaacman's favorite moments in orbit were watching his crew members just be themselves in microgravity, he said, remembering Chris Sembroski ('07) playing his ukulele and Dr. Sian Proctor doing his works. He said another big goal of his mission was to show that ordinary people can go into space.
The next step is to go to the moon as part of the Polaris Dawn mission, with an eventual goal of putting people on Mars, he said.
"What an incredible time we're living in right now," he said, noting that using commercial space exploration as a way to give back has always been his primary focus. "It has to be at the forefront of every one of these missions. It's so important that you have as much of an impact here on Earth as you try to accomplish in space.
He encouraged students interested in working in the space industry to pursue their dreams, adding that there are exciting opportunities in this emerging field.
"You just have to aim high," Isaacman told the students. "Now is the time to do it."
Watch Isaacman's full presentation online.
*Melanie Azam contributed to this report.
Posted in: Engineering | Institutional news | Search | Space