Improve mission success and safety with a dual thermal camera zoom drone payload
---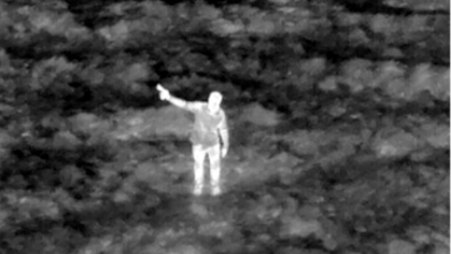 By Kelly Brodbeck
Law enforcement agencies use small drones or unmanned aircraft systems (UAS) to securely gather key information and save time, staff hours and money. Police drones are used to collect evidence, photograph traffic accident scenes, monitor crowds, track suspects and more. Whether tracking or monitoring via drone technology, there are challenges related to battery capacity, flight time, and payload performance.
Many agencies are deploying UAS payloads equipped with visible light cameras and a single thermal camera with digital zoom. While thermally visible payloads provide greater flexibility for a variety of operations, at night or in other difficult lighting conditions, operators risk overlooking a person or item of interest due to a Inefficient digital thermal zoom. This can result in increased mission time, or worse, give away personnel locations while increasing the margin of error due to less visual awareness.
In response, UAS thermal imaging camera payload technology has evolved to incorporate two (dual) radiometric cameras. Radiometric thermal cameras measure the temperature of every pixel in the scene to provide clarity and awareness. A high-resolution dual thermal camera payload that provides pixel-by-pixel temperature measurement can help law enforcement make critical decisions faster.
Monitor and track securely and silently
A dual thermal camera payload improves overall visibility and zoom clarity. When equipped with a fixed narrow field-of-view (FOV) camera and a wide-field-of-view camera, it offers the best of both lens types, providing wide-angle situational awareness and a higher concentration of pixels on target when paired with a narrow FOV camera. This combination maintains full image resolution at 1x and 5x zoom, eliminating magnification blur from a single thermal camera with digital zoom. This can reduce false positives and increase security.
By adding thermal imaging capabilities to a drone's airframe, law enforcement can safely and silently survey an area at night or in other difficult lighting conditions such as smoke or fog. fog.


Search more area in less time
The clarity offered by a dual thermal camera system allows the operator to zoom in on a target of interest quickly and efficiently. The combination of thermal and radiometry provides ideal functions for quickly searching more areas with better accuracy, especially for people or other objects that are hotter or colder than the environment around them.
---
About the Author
Kelly Brodbeck is Product Management Executive – Unmanned Aircraft Systems for Teledyne FLIR.
POLICE DRONE RESOURCES1