Integration of Quantum-Systems' Trinity F90 + and MicaSense dual camera systems opens up new possibilities with fully integrated PPK process
---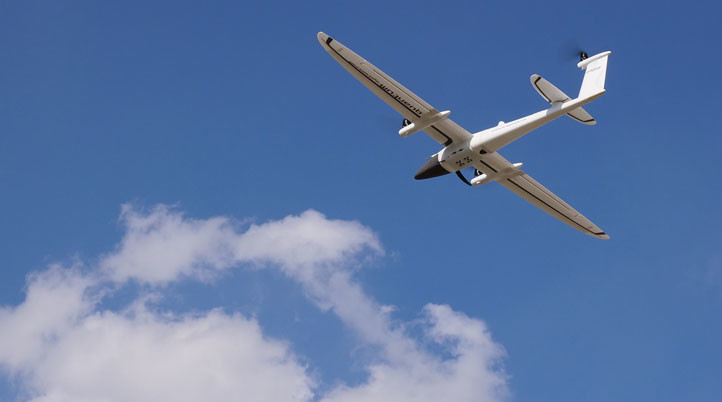 April 20, 2020
The latest cooperation between Quantum-Systems and MicaSense brings the dual camera system to the Trinity F90 + fixed-wing drone as a payload option, thus completing the available portfolio of camera payloads for professional users of Quantum-Systems drones. .
Released at the end of 2019, the Trinity F90 + mapping drone combines the PPK with the advantages of an eVTOL fixed-wing drone with a flight time of over 90 minutes and long range telemetry. Whether in the agricultural sector, in the mining sector or during the inspection of industrial installations and the progress of construction, Quantum-Systems claims that more data can be recorded in a very short time than was previously possible with conventional systems.
"Our passion is the continuous development of advanced VTOL aircraft," said Florian Seibel, CEO of Quantum-Systems. "With our out-of-the-box systems, we serve a wide range of customers. We help increase yields in agriculture, perform 3D reconstruction missions, conduct tactical mapping for security forces, or provide critical real-time video footage to government users.
Well known as a developer of drone sensors for precision agriculture, MicaSense published on Dual camera system at the end of 2019 to facilitate the integration of drone sensors on the farm and enable advanced remote sensing and vegetation research applications. By combining MicaSense's RedEdge-MX and RedEdge-MX Blue sensors, the dual camera system captures double the spectral bands of previous products and captures the same bands as the Landsat 8 and Sentinel satellites, allowing direct comparison of data between satellite and drone data.
"While all of our sensors produce repeatable outputs with optimized GSD, the additional spectral information captured by the dual camera system makes it particularly suitable for AI / Machine Learning workflows," said Justin McAllister, CTO of MicaSense . "Now, integrated with the Trinity F90 +, the combined solution gives customers the highest capacity for canopy analysis and classification tasks over large areas. "
In addition, Quantum-Systems' PPK solution will support the dual camera system, eliminating the need to deal with third-party solutions and saving time and money. PPK solution includes entry-level GNSS reference station iBase which automatically saves the GNSS reference measurements on the ground in a file on a micro SD card.
Available in May 2020 from Quantum-Systems partners worldwide, this is the first time that the dual camera system has been integrated into a small fixed-wing drone, opening up new possibilities in terms of range and gain. time consuming thanks to a fully integrated PPK process. Thus, the former owners of Trinity F90 + have access to the dual camera system, Quantum-Systems has ensured that the drone does not require any technical modification to adapt it. Of the society QBase 3D the mission planning software will receive an update at launch to support this new payload.