LUCID launches new Helios2 + time-of-flight camera
---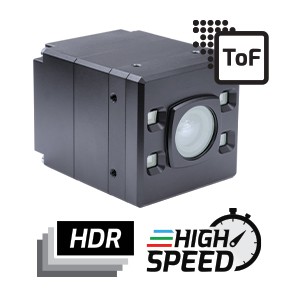 LUCID Vision Labs, Inc., designer and manufacturer of unique and innovative industrial vision cameras, is pleased to announce that the new Helios2 + 3D Time-of-Flight (ToF) camera has entered mass production.
Helios2 + is an advanced version of the Helios2 ToF camera offering two new depth processing modes on the camera: high dynamic range (HDR) mode and high speed mode. HDR mode combines multiple exposures in the phase domain to provide precise depth information in complex high contrast scenes, containing both high and low reflectivity objects. High-speed mode enables depth perception using single-phase measurement, allowing faster acquisition speed and higher frame rates compatible with the perception of moving objects.
The Helios2 + camera shares the same Factory Tough industrial platform as the Helios2 camera and offers a seamless upgrade path for existing customers. Helios2 + incorporates Sony's DepthSense IMX556PLR back-illuminated ToF image sensor and uses four 850nm VCSEL laser diodes. The camera offers a depth resolution of 640 x 480 up to a working distance of 8.3m and a frame rate of 30 fps in standard mode. In high speed mode, the Helios2 + camera can operate up to 103 fps at a distance of 2.5m. Additional features include 6 different operating distance modes, a built-in ambient light filter, a wider field of view, multi-camera support and a flying pixel filter. On-camera processing provides data of range, intensity, and confidence, reducing the need for expensive host systems.
"With the adoption of these two new acquisition modes, the Helios2 + ToF camera presents a new set of opportunities for users who develop 3D imaging systems and enable deployment in harsh environments," says Rod Barman , founder and president of LUCID Vision Labs. "Its compact form factor, industrial reliability and attractive price make the Helios2 + ideal for many demanding 3D applications such as 3D inspection, automated material handling and robotics to operate more efficiently while reducing overall cost. of the system.
LUCID's Arena SDK includes easy-to-use controls for the Helios2 + ToF camera. The ArenaView GUI can display the intensity and depth of a scene in a 2D view or a 3D point cloud view, which can be manipulated and oriented in real time. Additionally, parameters can be adjusted and viewed in real time, including false color overlay and depth range.
All LUCID cameras comply with GigE Vision 2.0 and GenICam3 standards and are supported by LUCID's own Arena SDK. The Arena SDK provides customers with easy access to the latest industry standards and software technology. The SDK supports Windows, 64-bit Linux, and Linux ARM operating systems, as well as C, C ++, C #, and Python programming languages.