Polestar O2 concept comes with deployable camera drone
---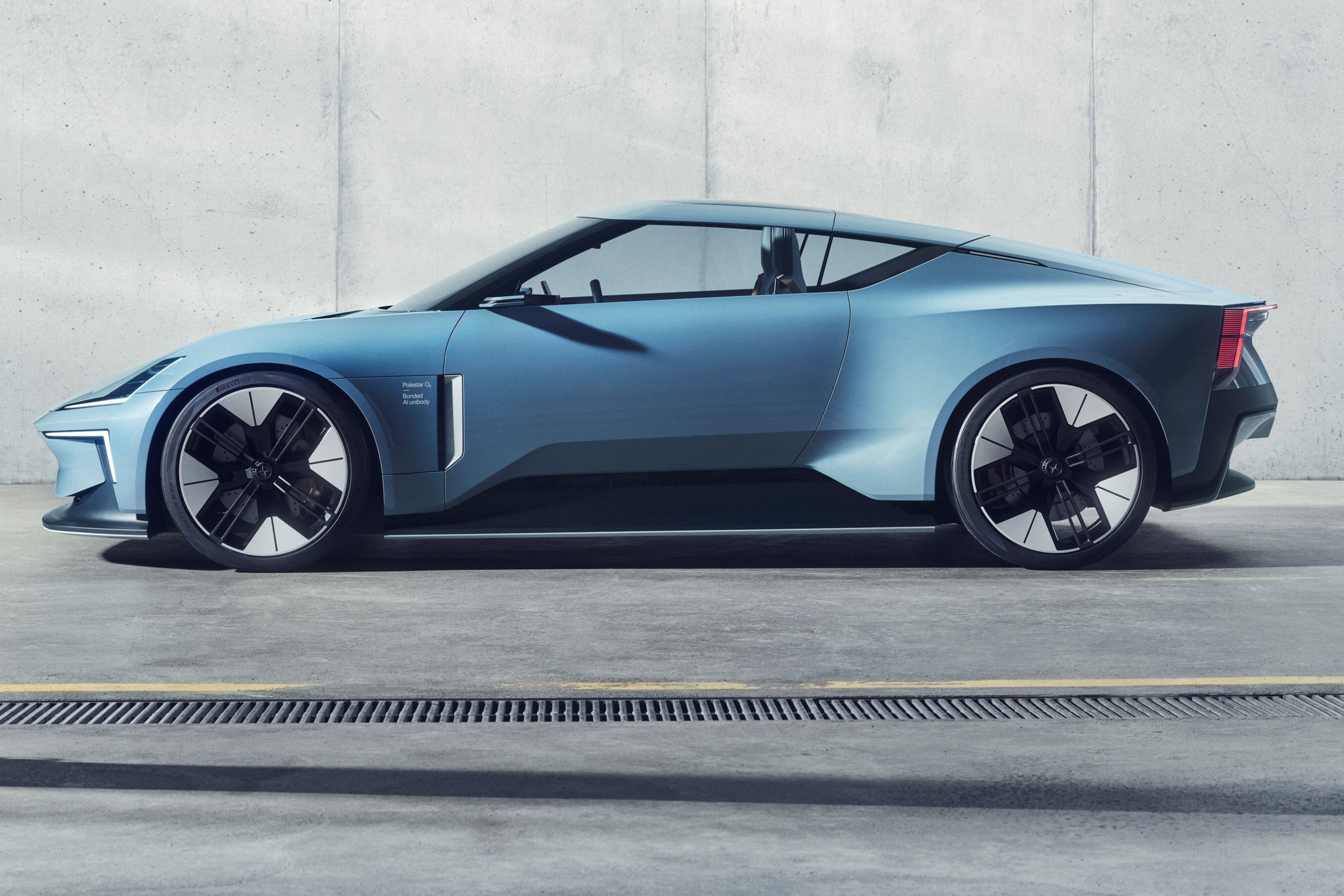 Electric car maker Polestar unveiled its latest concept on Tuesday, complete with a deployable drone. The convertible hard-top concept O2 (O2 as in oxygen) will be the brand's "heroic car", according to CEO Thomas Ingenlath.
Although the features appear to be very experimental, the new aluminum platform, low stance and deployable drone are all things that could be seen in production cars in the not too distant future.
For the record, Polestar currently sells the 2, which is a one- or two-engine sedan. It just announced the Polestar 5 last month, a four-door GT performance car that will go on sale in a few years. And next is the 3, a performance electric SUV that will be unveiled later this year.
The O2's design ties into the older Polestar Precept, but it takes on a much more aggressive tone with the pointed front end and wide stance. The overhangs are small and the rear trunk area is scalloped to reduce wind turbulence. Even the wheels are designed for aerodynamics and efficiency. The soft top, however, was a surprise.
"In the design and presentation of this O2 concept to the public, we are showing what would be the most appropriate use of a quiet drivetrain, a convertible," said Polestar CEO Thomas Ingenlath. Newsweek.
"It's two things. It's the sound and the quiet propulsion. But it's also the other thing. What do we like about convertibles? It's the fresh air, the clean air, nature. And what a strange situation with you as a driver enjoying it, but a meter behind you, its poisonous gas is coming out of your tailpipe."
The move towards sustainability also extends inside the cabin. Polestar uses a new "thermoplastic mono-material" that can be used for all soft components, including foam, adhesive, 3D knit fibers and non-woven lamination.
"One thing that we follow over and over again is the exploration of new materials. And the whole idea of ​​sustainable materials that when you recycle them they stay at a very high level of quality and purity," Ingenlath said. . "We put pressure on our R&D team to do it for production like we did with the naturally grown fibers in the Precept."
The new aluminum platform will provide faster responses to inputs than with a traditional platform. It will feature high roll damping, meaning it won't lean into corners and a direct steering feel. It also cuts 400 to 500 pounds of weight.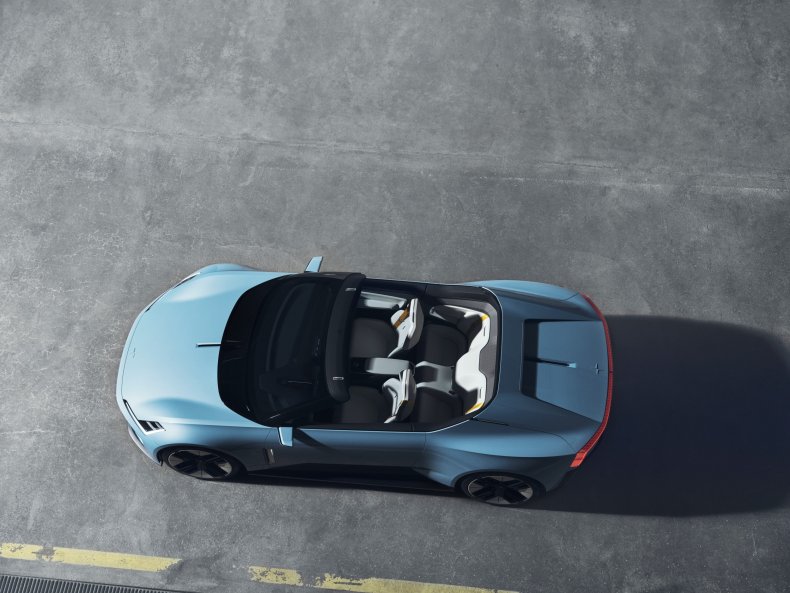 "O2 here really highlights the great attributes that we've developed with this aluminum-bonded architecture that we used to make the Polestar Precept. structure," Ingenlath said. Newsweek.
"You don't really need to beef it up for a roadster. It can handle big batteries too. That also makes this design possible. And the Polestar 5 won't be the only one using it."
The coup de grace is the concept's deployable drone, which launches from the backseat. It took some engineering and a special airfoil that pops up behind the rear seats to create a quiet zone for the camera drone to take off.
The drone follows the car at speeds of up to 56 miles per hour. It's not for super high-speed action, but it'll go fast enough to track and film while driving through a forest or on the Pacific Coast Highway.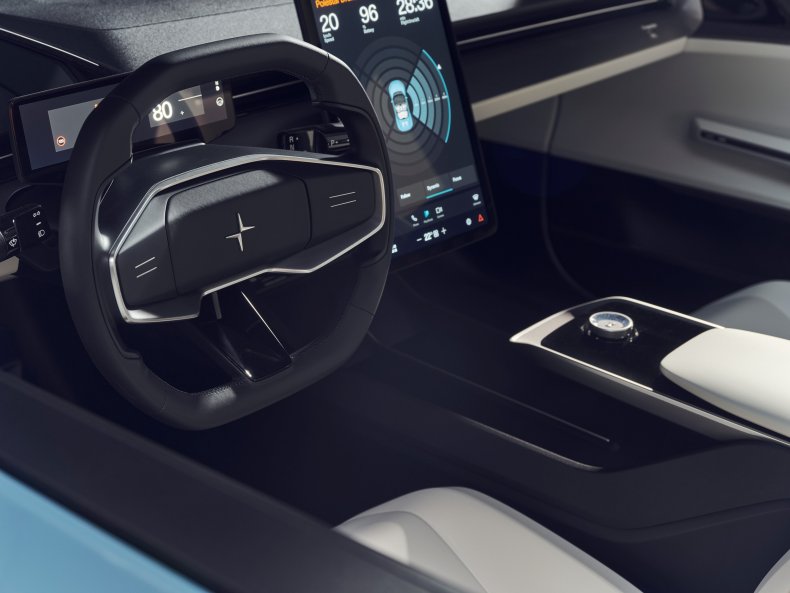 "It may look like a concept, but this technology is possible. Launching a drone from a car, okay, it's a challenge, but really tracking the target, having a high speed of up to 100 km/h", Ingenlath said.
"And what you can produce is really amazing. You can share it with your friends and family. You can capture that really sweet moment in your life when you're driving. That's something we'd really like to put into production."
The O2 concept, like most concepts, won't see the light of day other than maybe a car show or a contest, but it highlights what the company is capable of when the reins are pulled back.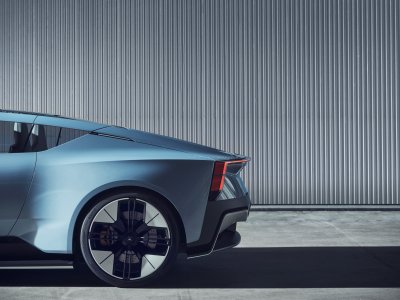 "I've been preaching for over two years, once you've experienced the joy of an electric drive and all it can offer," Ingenlath said, "I'm very There's no going back to the combustion engine when you return to this memory. But the path to CO2-free mobility will still take incredible effort and a few years. But if we don't start tackling it, we won't get there. never.