What lenses are compatible with the DJI Ronin 4D camera
---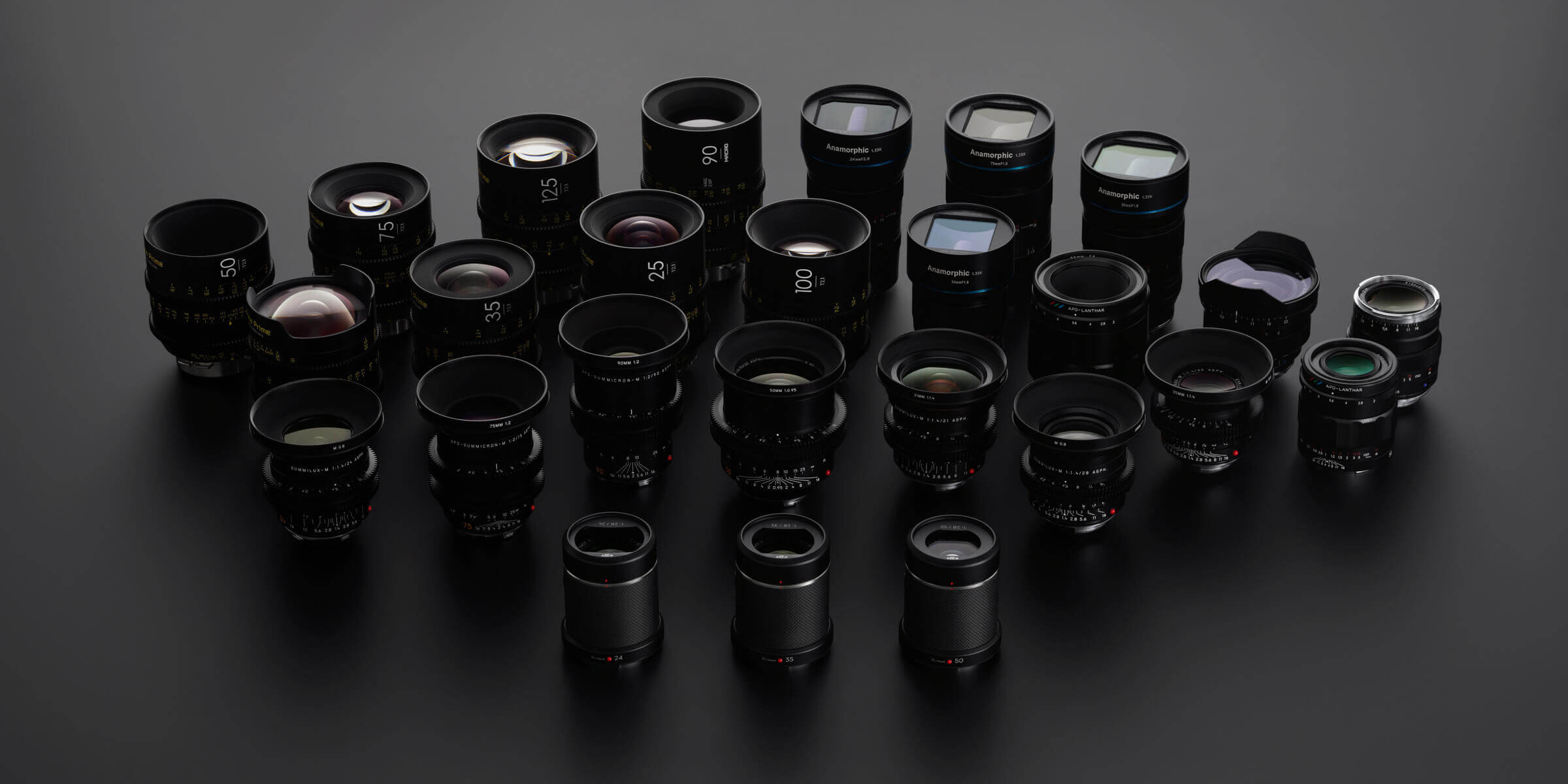 Ever since DJI released the revolutionary Ronin 4D Cinematic Camera System, we've been inundated with questions from our readers.
The two big questions are "Where can we buy it" (for now it's only pre-order at B&H Photo) and "What lenses are compatible with the Ronin 4D? ".
DJI has released a comprehensive list of "recommended" lenses for use with the Ronin 4D, and we expect it to grow. So far there are 45 lenses that DJI has listed as compatible and recommended for the Ronin 4D. The manufacturer lineup is even better: DJI, Leica, SONY, Tamron, Zeiss, Sigma, Voigtlander, and Sirui are all on the list.
But beware: we've already found errors on DJI's own recommended lens list (we let them know and they fixed them)… but these aren't the kind of lenses you want to accidentally buy. Some of them can reach $ 10,000 in cost and most are non-refundable so you must be absolutely certain that you are buying THE RIGHT LENS!
Here is the most recent list of recommended Ronin 4D lenses as of the above publication date:
Ronin 4D Compatible DJI DL-Mount Lenses
Ronin 4D Compatible Leica M-Mount Lenses
* = requires a tuning motor
Ronin 4D Compatible SONY E-Mount Lenses
| | Lens | Focus control | Iris control | Recommended counterweight? | Z axis support | Or buy |
| --- | --- | --- | --- | --- | --- | --- |
| | SONY FE 14mm f / 1.8 GM | Supported | Yes | No | Yes | B&H, Adorama, Amazon |
| | SONY FE 20mm f / 1.8G | Supported | Yes | No | Yes | B&H, Adorama, Amazon |
| | SONY FE 24mm f / 2.8G | Supported | Yes | No | Yes | B&H, Adorama, Amazon |
| | SONY FE 28mm f / 2 | Supported | Yes | No | Yes | B&H, Adorama, Amazon |
| | SONY FE 35mm f / 1.4 GM | Supported | Yes | No | Yes | B&H, Adorama, Amazon |
| | SONY FE 35mm f / 1.8 | Supported | Yes | No | Yes | B&H, Adorama, Amazon |
| | SONY FE 35mm f / 2.8 ZA | Supported | Yes | No | Yes | B&H, Adorama, Amazon |
| | SONY FE 40mm f / 2.5G | Supported | No | Yes | Yes | B&H, Adorama, Amazon |
| | SONY FE 50mm f / 1.2 GM | Supported | Yes | Yes | Yes | B&H, Adorama, Amazon |
| | SONY FE 50mm f / 1.8 | Supported | Yes | No | Yes | B&H, Adorama, Amazon |
| | SONY FE 50mm f / 2.8 Macro | Supported | Yes | No | Yes | B&H, Adorama, Amazon |
| | SONY FE 55mm f / 1.8 ZA | Supported | Yes | No | Yes | B&H, Adorama, Amazon |
| | SONY FE 85mm f / 1.4 GM | Supported | Yes | Yes | No | B&H, Adorama, Amazon |
| | SONY FE 85mm f / 1.8 | Supported | Yes | No | Yes | B&H, Adorama, Amazon |
| | SONY FE 100mm f / 2.8 STF GM OSS | Supported | Yes | Yes | Yes | B&H, Adorama, Amazon |
| | SONY FE 12-24mm f / 4G | Supported | Yes | Yes | Yes | B&H, Adorama, Amazon |
| | SONY Vario-Tessar T * FE 24 / 70mm f / 4 ZA OSS | Supported | Yes | Yes | Yes | B&H, Adorama, Amazon |
| | SONY E 10-18mm f / 4 | Supported | Yes | No | Yes | B&H, Adorama, Amazon |
| | SONY E 16-55 f / 2.8G | Supported | Yes | Yes | Yes | B&H, Adorama, Amazon |
| | SONY E PZ 18-105mm f / 4 OSS | Supported | Yes | No | Yes | B&H, Adorama, Amazon |
Tamron lenses compatible with Ronin 4D
| | Lens | Focus control | Iris control | Recommended counterweight? | Z axis support | Or buy |
| --- | --- | --- | --- | --- | --- | --- |
| | Tamron 28-75mm f / 2.8 Di III RXD | Supported | Supported | Yes | Yes | B&H, Adorama, Amazon |
| | Tamron 17-28mm f / 2.8 Di III RXD | Supported | Supported | No | Yes | B&H, Adorama, Amazon |
Zeiss lenses compatible with Ronin 4D
| | Lens | Focus control | Iris control | Recommended counterweight? | Z axis support | Or buy |
| --- | --- | --- | --- | --- | --- | --- |
| | Zeiss Batis 2.8 / 18 | Supported | Supported | No | Yes | B&H, Adorama, Amazon |
| | Zeiss Batis 2/25 | Supported | Supported | No | Yes | B&H, Adorama, Amazon |
| | Zeiss Batis 2/40 CF | Supported | Supported | No | Yes | B&H, Adorama, Amazon |
| | Zeiss Batis 1.8 / 85 | Supported | Supported | No | Yes | B&H, Adorama, Amazon |
| | Zeiss Batis 2.8 / 135 | Supported | Supported | Yes | Yes | B&H, Adorama, Amazon |
Sigma lenses compatible with Ronin 4D
Voigtlander lenses compatible with Ronin 4D
| | Lens | Focus control | Iris control | Recommended counterweight? | Z axis support | Or buy |
| --- | --- | --- | --- | --- | --- | --- |
| | Lanthare 50mm f2 | Supported* | No | No | Yes | B&H, Adorama, Amazon |
| | Apo-Lanthar 65mm f2 Macro | Supported* | No | Yes | Yes | B&H, Adorama, Amazon |
* = requires a tuning motor
Sirui lenses compatible with Ronin 4D
| | Lens | Focus control | Iris control | Recommended counterweight? | Z axis support | Or buy |
| --- | --- | --- | --- | --- | --- | --- |
| | SIRUI 35mm f / 1.8 1.33x Anamorphic | Supported* | No | Yes | Yes | B&H, Adorama |
| | SIRUI 50mm f / 1.8 1.33x Anamorphic | Supported* | No | Yes | Yes | B&H, Adorama |
* = requires a tuning motor
Latest Ronin 4D News and Updates: